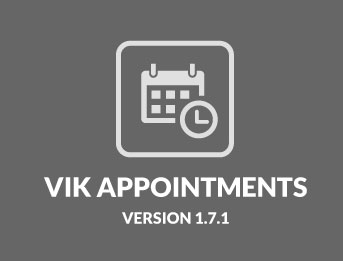 VikAppointments 1.7.1 Release
VikAppointments 1.7.1 is now available.
This version contains some new features, several enhancements and a few bug fixes.
What's in 1.7.1?
Here is a list of what this new version brings.
NEW FEATURES
Added the possibility to allow the customers to self-confirm their appointments through a link received via mail.

Introduced a new system to backup the contents of VikAppointments (import/export).

Implemented a wizard to help the administrators to set up the program after its installation.

Introduced the possibility to offer certain payment methods only to customers with a specific number of purchases/bookings.

It is now possible to import the working days from a file in JSON, XML or TXT format.
IMPROVEMENTS
While registering an appointment from the Employees Area, the system will now automatically create a new customer record.

It is now possible to apply a manual discount while creating/editing an appointment, a package order or a subscription.

Updated the PayPal integration to support an instant validation of the transactions.

Improved the cron jobs management, which now provides an extended editor for the textarea type fields that were allowing HTML tags.

Added a new ACL role to allow the administrators to access the management page of the closing days/periods.

The driver used to export the appointments in CSV format now includes the payment column.

Added the possibility to restore the default status codes.

The appointments list in the Employees Area dashboard now reports more information.
BUG FIXES
Fixed an issue that was not taking the correct price of a service in case of multiple participants (back-end).

Removed a duplicate search icon that could appear on retina displays.

Fixed an issue that could display empty boxes for the attendees within the notification e-mail.

Fixed a decoding error that could occur while trying to open the popup for the registration into a waiting list.

Fixed an error with the purchase of the subscriptions.

Fixed an issue that could not display the button to leave a review.
Got Errors During the Update?
If the update process gave you some errors, then it may be possible that your current installation or account are not allowed to install the new version of VikAppointments for free. This is may due to 2 different factors:
the domain from which you are requesting the update is not registered;
your support license expired.
In case you are sure that your website is properly registered on our system, then you may have to purchase another copy of VikAppointments in order to extend your support license by another year. Click HERE if you wish to go ahead with the purchase.
Otherwise just contact us if you don't know what you should do.
Enjoy your new VikAppointments!