The new JoomlArt template for VikBooking: JA Tour
The JoomlArt Team has recently released their brand new Tour Travel template. The "JA Tour" template is another release of the travel template series of JoomlArt. The template is featured with Vik Booking, our popular Hotel and Accommodations booking extension for Joomla. The template comes with default styles for the online hotel booking system, travel guide layouts, Joomla booking form and tour details pages.
The JoomlArt Tour Travel Template is now available. JA Tour Joomla template is another release of the travel template series of JoomlArt. The Tour Joomla template is featured with our Vik Booking Hotel Joomla extension, online hotel booking system, travel guide layouts, Joomla booking form and tour details pages.
If you are probably using Vik Booking to manage rates, availability, reservations and much more of your accommodation property (rather than for listing tours), the new JA Tour Template could still fit your Vik Booking perfectly, bu giving it a precise look & feel that only Templates could do.
The Tour and travel Joomla template is based on the latest T4 Joomla template framework, Bootstrap 4 library and fully responsive to customize the views using inbuilt tools: layout builder, theme customization and Megamenu.
In this blog post, we will list out all main features of JA Tour Joomla template by outlining core features first and then covering the core features in-depth accompanied with screenshots. You can always see on the demo site - the layout options which are readily available in JA Tour with quick redirects to every layout option.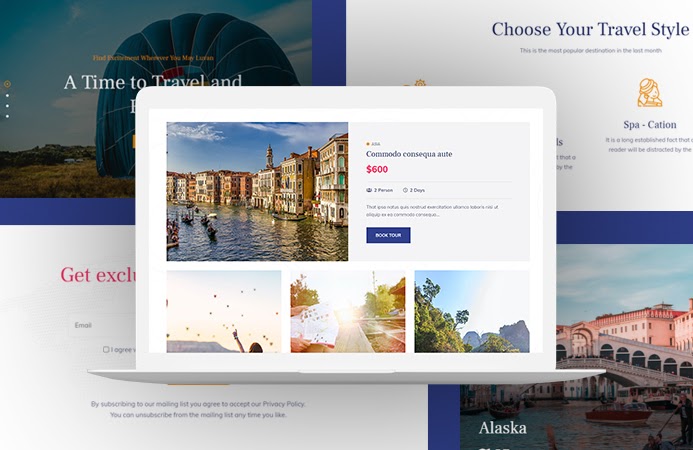 Core features of the Advanced Multipurpose Joomla Template:
Dedicated designed Tour and Travel business, Travel booking websites
Built on T4 Framework latest version with intuitive admin panel - Supports Flexible menu system with Megamenu, Mobile dropdown menu and Off-canvas, Theme Configurations, Visual layout configuration, CSS and JS compression e.t.c
Built-in pages for Tour booking.
Joomla contact form for the online Tour booking.
Fully Support Vik Booking Joomla extension.
Fully Responsive design
Extra fields for tour Joomla articles.
Layout builder
Megamenu builder
Theme customization tool
Advanced tools: custom CSS & SCSS editor, Custom code, CSS & JS optimization
Integrated Bootstrap 4.
Font Awesome 5 in-built.
Fully responsive design
All default Joomla pages with custom styles.
Optimized codebase
RTL Language Layout
Quickstart package for a replica of the demo site
Below, we'll go into more detail on most of the key features with accompanying screenshots.
Designed for travel booking services websites
JA Tour is specially designed for the tour and travel booking websites. If you are planning to build a new website for tour travel or hotel bookings OR you need the latest design for your booking website, JA Tour Joomla template is the best choice.

JA Tour Joomla template cover all type booking services required for tourism business or booking agency.
Best booking detail pages
For every Tour travel booking website, it's important how they show the booking details page. JA Tour Joomla template designed with the latest style to cover all tour booking details in a very neat and clean arrangement for all elements like tour plan information, gallery and location.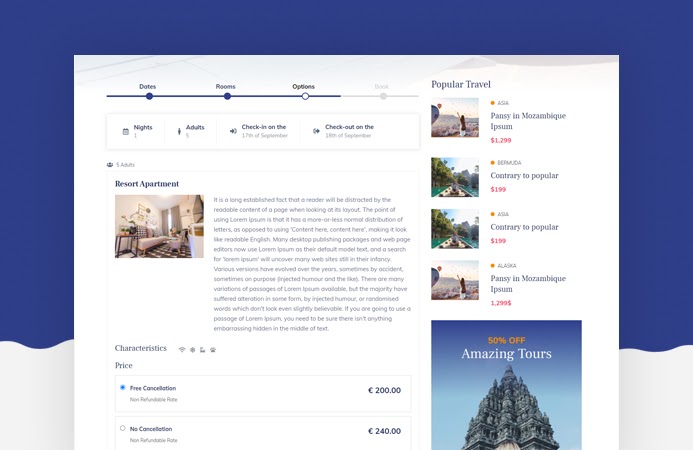 Integrated with our Vik Booking hotel Extension
A new style for our Vik Booking extension, the JoomlArt team worked to a new layout for most of the front-end views such as Rooms List, Room Details and the booking process.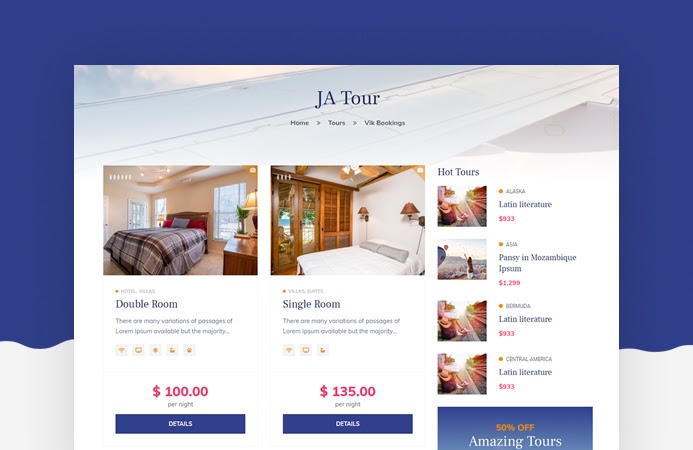 Beautiful Tour list pages
A beautiful tour website always attracts booking customers with a specific city. JA Tour List page is well designed to display the list of tour pages with all important details that helps the site users to view tour packages for different city or category. You can use this page to display a list of tour articles for a specific city.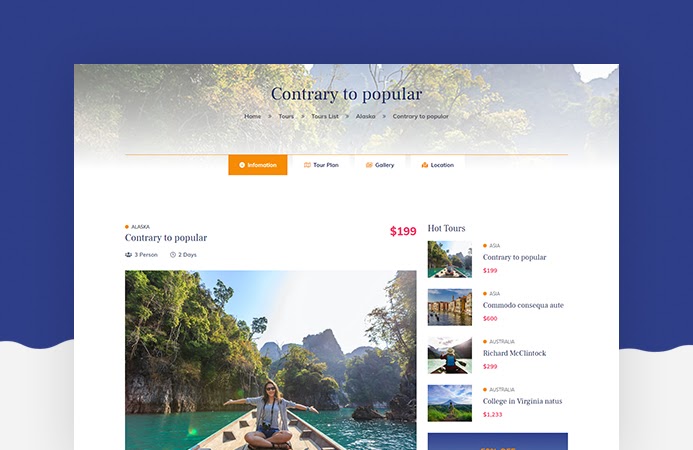 Responsive design
JA Tour template pages based on powerful Bootstrap 4 responsive system, it's fully responsive and adaptive with the layouts and elements to adjust for all kind of devices. No matter whether you are on a phone or tablet, the booking experience is always user-friendly and awesome.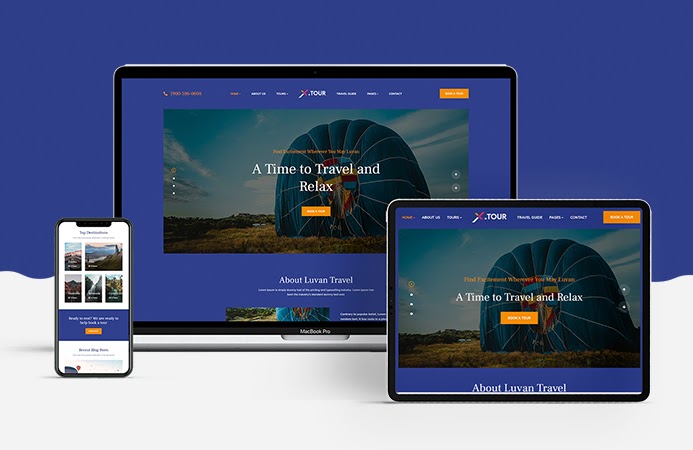 Based on powerful T4 Framework
JA Tour template is based on a latest responsive Joomla framework - T4 Framework with powerful features and ease of customization. It is a modern, flexible and highly customizable framework.
Flexible Megamenu and Mobile menu
JA Tour template featured with a flexible navigation system that is one the most important part for the web interface to navigate the visitors from one page to another page. The tour Joomla template supports multiple navigations: Megamenu with Joomla default dropdown menu and Off-canvas menu (recommended for Mobile layout).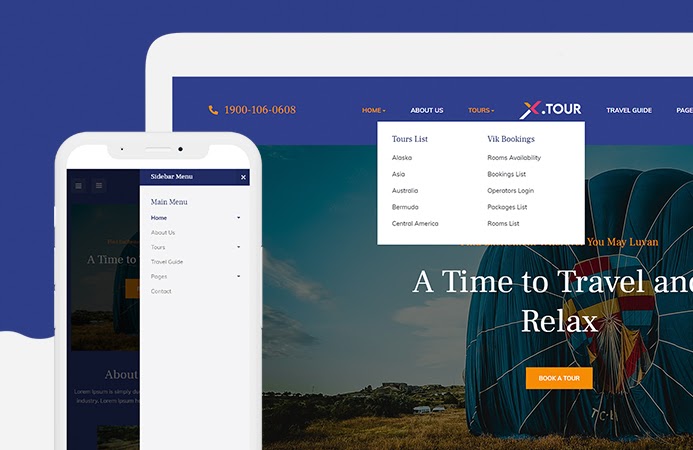 Right to left language layout
JA Tour supports the right to left languages that allows you to build a website in special languages: Arab, Persian, etc.
Complimentary Extensions
JA Tour comes with complimentary extensions that give an amazing look to the site.
JA Masthead Module
JA Advanced Custom Module
JA Extension manager
T4 Framework Plugin
Checkout JA Tour live demo: