e4j's Blog
news about the Joomla!® world and the Vik extensions
Category: Updates
Published on 30 March 2020

Vik Booking 1.13: new tools and improvements for the re-birth of the tourism industry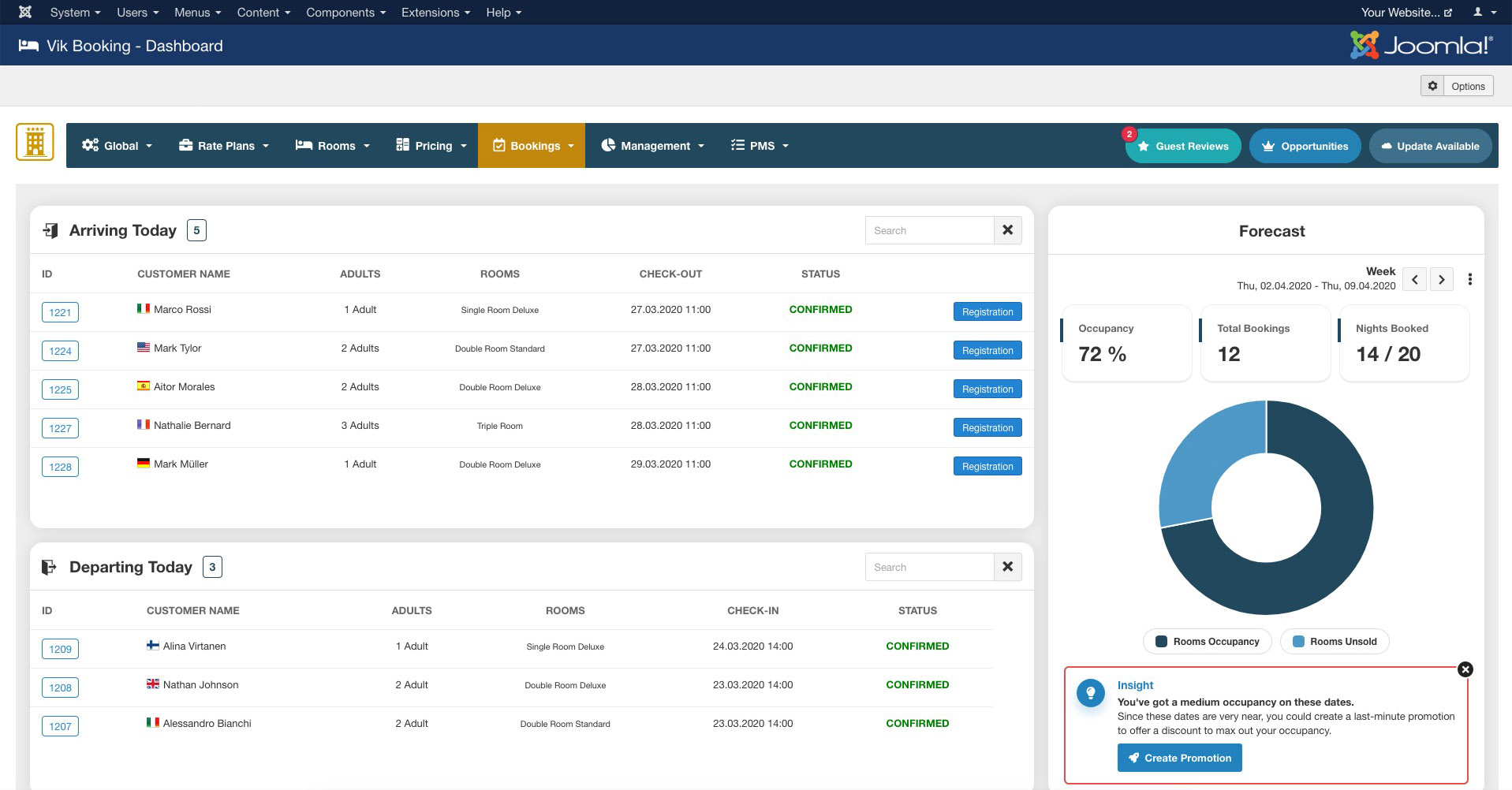 The peculiarities of the travel, tourism and accommodation industry are the unpredictable aspects concerning occupancy and confirmation ratio, that can vary a lot.
It's not simply a matter of seasons. Behind all of this, there are lots of factors that affect both hosts and travelers choices and actions, every single day.
For travelers, planning a trip usually means analisying aspects like:
What is the best season for travelling?
What is the cheapest month to go on holidays?
Owners, instead, might ask themselves:
What is the best moment to promote my rooms?
What is my lowest occupancy period?
When do I face most the risk to leave my rooms empty?
We know that make such calculations any time without a specific method or support, can be very confusing.
With Vik Booking 1.13 things will go easier!
Thanks to the Dashboard of Vik Booking, you'll have some specific tools that will help you check and analyze your periodical occupancy trend. The new features of Vik Booking were created in order to work to maximize occupancy and revenue for Hotels. You will have a clear and complete overview that will help you acting different strategies on your prices.
What's new in Vik Booking 1.13?
The "Statistics" and "Reports" functions are well known from all the users of Vik Booking. Those strong points are specific and fundamentals for any business strategy. But now, in Vik Booking 1.13, they get more value thanks to some important enhancements:
The new Occupancy Ranking report, is a complete framework that will provide you all the information needed on your occupancy. With this tool you can make custom researches, select specific range of time to analyse and split the data more deeply, even per week or days. The system will display the percentage of occupancy, the total number of rooms sold, nights booked, revenues and more.
But it's not all! A new graph, the Forecast graph, was added inside the Dashboard and in the Rates Overview. This graph is essential since you can keep the status of your occupancy rate under control every time you want for any period. It will be very useful whenever you want to make a fast calculations of more limited times.
Moreover, The Vik Booking Forecast function will show some useful tips based on your research to suggest you the best sales strategy to full-fill your occupancy, by acting on your prices or by doing a promotion.
How? It will highlights seasons and festivity, and the average occupancy rate for the period analyzed. You have the option to choose the range of periods to analyze among months, weeks or a single weekend.
If you are in the low season or in the high season, do not leave any days with low occupancy! The Vik Booking Forecast will suggests you the best "Promotion" strategy to act, with a useful input that you find directly in the Dashboard.
Read the Insight that shows up after a research. It will warn you about the best way to act based on the occupancy range and also on the time distance between the period analyzed and the current day.
Want some example about how it works?
Scenario #1: Low occupancy promotion
In the image you can see the occupancy ranking for the festivity Easter. The forecast says that we have a quite low occupancy situation.
I was warned that, since the dates I chose to analyze are not yet so far neither so near, I can decide to act with a basic promotion.
Vik Booking has the perfect suggestion for you: look at the Insight message under the Forecast and act immediately with Promotions!
Boost your reservations with the most complete hotel booking for Joomla!
Let your business grow with Vik Booking.
Vik Booking is flexible, powerful, tailored on your needs! It's simply the software for Hotels and Accommodations that have a website with Joomla.
Create your strategy to attract more guests and more bookings!
Discover all the other functions available on Vik Booking 1.13
Vik Booking new features:
New back-end and front-end framework. This is a major release that introduces hundreds of improvements and tens of new features
Brand New design. This version has a new responsive look & feel in the entire back-end
Guest Reviews. Those who are also using Vik Channel Manager will be able to start receiving reviews from the guests for their stays
Occupancy Forecast. A new widget has been placed in the Dashboard as well as in the page Rates Overview to monitor the future occupancy
Reports Graphs and Sheets. Certain reports, such as the occupancy ranking, will render the data also on line charts
Shared Calendars. It is now possible to link the availability calendars between multiple rooms
Upsell Extra Services. Guests will be able to upgrade their bookings (website and OTAs/Channels) by ordering some extra services through your site at any time
OTA Booking details. Any reservation downloaded by the Channel Manager will be also visible by your guests on your website
Back-end reservations with front-end rate plans. The page Calendar will now display the front-end rate plans for selection
Rates Calculator Book Now button. The useful tool of the Rates Overview will now let you use a Book Now button to quickly book a room-rate plan combination
Custom Documents for Customers. It is now possible to upload custom files for any customers to keep track of them
New compact layout for multiple rooms bookings. Booking multiple rooms, like a group of rooms, is much faster now
Improvements:
Booking History. Added several new events to keep track of any modification made for a booking
Vik Channel Manager. Automatic triggering of reports, reviews download and opportunities with a new promotion sync system
OTA Reviews Module. You will now be able to display your website reviews as well as the Global Score of your property(s)
FontAwesome updated. The FontAwesome library was updated to their latest version
New back-end filtering options. Added several new filters in the back-end Views
Pre-checkin for OTA bookings. Guests can now self check-in even if they booked through an external channel
Do you work also with WordPress?
Did you know that some of our Joomla!
®

extensions are also available as plugins for WordPress?

Please visit our dedicated marketplace VikWP.com for more details!

Visit vikwp.com