e4j's Blog
news about the Joomla!® world and the Vik extensions
Category: Updates
Published on 18 September 2019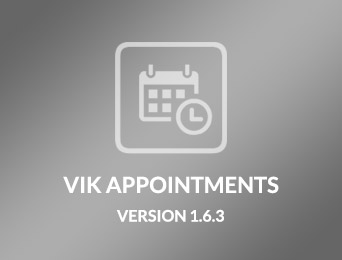 VikAppointments 1.6.3 Release
VikAppointments 1.6.3 is now available. This version contains some new features, several enhancements and a few bug fixes.
What's in 1.6.3?
Here is a list of what this new version brings.
New Features
Added some reports for the packages orders.
Created the reports also for the services booked.
Closing days can be specified also for some services only.
Custom fields for the employees now support a visual editor.
Improvements
Packages are automatically redeemed (if any) also from the back-end when creating a reservation.
Packages are automatically restored after cancelling a reservation from both the sections.
The packages list in the back-end now displays the number of redeemed appointments per package.
Added some placeholders for displaying location details within the reminders.
All the reports can be generated also by number of appointments instead of total amount earned.
Coupon publishing dates can, optionally, refer to the checkin date or to the current date.
The number of participants (when higher than 1) is now reported within all the notification e-mails.
All HTML descriptions now support the content plugin events.
The PayPal form now owns the name and id attributes.
Bug Fixes
Booking restrictions are not applied when creating a reservation as employee.
The employee name is no more visible within the notification e-mail for customers, in case the employee selection was disabled.
Fixed the way the system detects the default country code in case of multilingual websites.
The payments filter within the back-end is no more visible in case there are no payment gateways.
The parameter used to enable the recurrence for a service is no more visible in case the recurrence is globally turned off.
Some input values have been escaped to prevent XSS attacks.
Enjoy your new VikAppointments!
Do you work also with WordPress?
Did you know that some of our Joomla!
®

extensions are also available as plugins for WordPress?

Please visit our dedicated marketplace VikWP.com for more details!

Visit vikwp.com