e4j's Blog
news about the Joomla!® world and the Vik extensions
VikAppointments 1.6.1 Release
Category: Updates
Published on 11 September 2018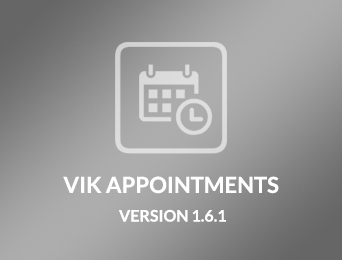 VikAppointments 1.6.1 is now available. This patch contains up to 10 bug fixes and implements a new system to override META DATA for services.
What's in 1.6.1?
VikAppointments 1.6.1 includes some bug fixes, core improvements and a new feature about META DATA.
Improvements
Added custom metadata for the services in order to change the browser title, description and keywords.
The ZIP field is no more required while creating new locations, as a few countries may not use it.
Bug Fixes
Added support for all the date formats that are not a PHP standard (e.g. d/m/Y or m-d-Y).
Fixed an issue that was creating new working days (of the year) for a wrong date.
The price label won't be displayed anymore for all the services that don't have a cost.
The system is now able to crop the images properly with the given sizes.
Fixed an issue that might display the working days in a wrong ordering.
The custom fields are now translatable even if the website is not multilingual.
The management page of the locations is now able to pre-fill the state and city parameters.
Fixed a SQL error that occurred while deleting locations from the back-end.
Changed a few deprecated functions to be compliant with PHP 7.2.
Enjoy your new VikAppointments!
Do you work also with WordPress?
Did you know that some of our Joomla extensions are also available as plugins for WordPress?
Please visit our dedicated marketplace VikWP.com for more details!
Visit vikwp.com