e4j's Blog
news about the Joomla!® world and the Vik extensions
Category: Updates
Published on 30 September 2020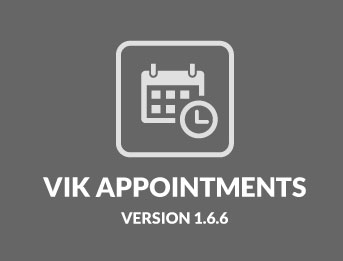 VikAppointments 1.6.6 Release
September 30th 2020: VikAppointments 1.6.6 is now available.
This version contains some new features, several enhancements and a few bug fixes.
Notice: change of Support License and Update policies
Starting from the version 1.6.6 the Support License and Update terms for VikAppointments have been unified to the rest of our extensions. From now on, updating to the latest version of VikAppointments will be free only for those who have an active Support License. This requires to have made a purchase within one year from the latest release date of VikAppointments, its paid version of the Update or any other complementary plugin of VikAppointments (like Zoom for VikAppointments).
Before changing this policy, those with an expired Support License needing support for VikAppointments were asked to purchase another full copy of the component in order to renew their Support License.
Now instead it is sufficient to purchase the paid version of the Update for VikAppointments to renew the access to free updates and free support for another year. The cost for the paid update is a lot cheaper than the full copy of the component.
The same thing is valid for those who need to purchase another copy of VikAppointments or any of its complementary plugins, like the integration for Zoom. Such purchases would also renew your Support License as well as the access to free updates for one more year.
We would like to remark the fact that you will never be obliged to purchase the paid version of the update, and so you can always keep your current version of VikAppointments without being asked to renew neither the Support License, nor the access to free Updates. You should do that only if you need to access the technical support or to install the latest version of the component.
VikAppointments v1.6.6 was released on September 30th 2020, and so all those who have purchased a copy of VikAppointments (or a copy of any of its related plugins/updates) after September 30th 2019 can install this new version for free.
If you haven't made any purchases for VikAppointments (or for its related plugins/updates) for one year from the release date of September 25th 2020, then you should purchase the paid version of the update in order to upgrade to the latest version and renew your Support License for one more year.
Why did these policies change?
The rest of our extensions have been applying this exact same policy for more than 4 years, and so also VikAppointments had to apply the same policy sooner or later.
Moreover, VikAppointments is supposed to be a fundamental tool for your online business, and so we believe that paid updates after one year at such a cheap cost are not going to damage your business, especially if you consider all the efforts our programmers always put into developing new versions of the software.
That said, if you are not willing to pay for an update to renew your Support License after one year, you can always keep your current version of the component with no additional costs.
This decision was only taken for the good of VikAppointments, the software that assists your online business every day.
Please consult our Terms and Conditions for more details.
What's in 1.6.6?
Here is a list of what this new version brings.
New Features
Added support for Zoom video meetings (external plugin required).
Implemented the description for custom fields.
It is now possible to create/edit a customer while managing a reservation.
Clicking an empty cell on the calendar view will let you create a new reservation.
The e-mail subject now supports dynamic tags.
Improvements
Improved the layout of the modal that shows the details of an appointment.
It is now possible to exclude the default custom texts while sending manual e-mails.
Added several plugin events to enhance the software extendability.
Bug Fixes
Fixed a few minor issues for the latest PHP versions.
Enjoy your new VikAppointments!
Do you work also with WordPress?
Did you know that some of our Joomla!
®

extensions are also available as plugins for WordPress?

Please visit our dedicated marketplace VikWP.com for more details!

Visit vikwp.com