e4j's Blog
news about the Joomla!® world and the Vik extensions
Category: Updates
Published on 25 September 2020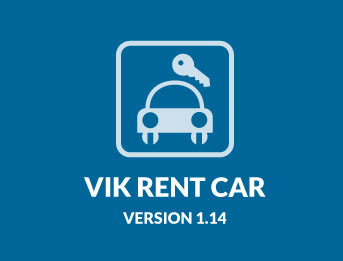 VikRentCar v1.14 - The major release for late 2020
VikRentCar v1.14 is now available! We have introduced tens of new features with this new major release. This update is only for those who are using Joomla 3.x, and although the framework has been tested with the currently available Alpha 2 version of Joomla, future patches or sub-updates may be necessary in a near future.
How to update to the latest version?
You can install the latest version of Vik Rent Car through the Joomla native update functions, or by using our free plugin Vik Updater.
The policy for the updates of this extension hasn't changed: updating is free only if you have purchased a copy of Vik Rent Car, or a copy of the previous Updates, after March 25th 2020. This means that your Support License must be active on the release date of the new version of Vik Rent Car, which is September 25th 2020. Those who have purchased the extension or an update before March 25th 2020, will be asked to purchase the paid version of the update (Update Package) for €29. This will give you access to free updates for another update cycle, and it will renew your Support License for another 6 months.
IMPORTANT: please remember to check for any updates for the modules of Vik Rent Car. This can be easily done from your Joomla administrator section, by clicking on Extensions - Manage - Update.
What's new in Vik Rent Car 1.14? Here's the full changelog
New Features
Brand new back-end design
This is a major release that includes several new improvements to the design and layout of the component.

New Calendar page
The page Calendar has been improved with a new look and some new functions, like the possibility of selecting a website rate plan for a manual order.

New front-end page General Availability
Use this new page to display a list of availability calendars for all or several vehicles. Both hourly and daily calendars supported.

New Promotions framework
Promotions have been completely re-designed, with some new settings to quickly allow their creation.

Strikethrough price
Show your customers how your promotions lower the rental costs.

Sortable Extra Images
You can sort with drag & drop the extra images of the gallery of each vehicle.

New availability calendars
The page Car Details is using a new system for allowing the selection of the rental dates.

Customer Email Preview
Quickly preview the changes made to the customer email template with a simple preview button.

New Phone Input Field
Custom fields of type Phone Number are now rendered with a special layout to facilitate the input of the phone number.

New Rates Calculator Tool
The page Rates Overview comes with a new design and useful buttons to quickly book a car with a specific cost.

Cron Jobs
The new framework for custom Cron Jobs is finally available. Schedule automatic email sending functions for your clients.

PMS Reports
Another important extendable framework has been implemented. Custom PHP drivers can produce financial reports for revenue, occupancy and more.

iCal Reminders
Attach an iCal reminder to any confirmation email message.
Improvements
Fancybox updated
The jQuery plugin has been updated to its latest version.

Chart.js
This JavaScript library has been updated to its latest version.

Administrator confirmation email
The administrator is now receiving the same email message as the customer with all the information.

Assign Options to Vehicles
Options can now be assigned or deselected to/from certain vehicles directly from their management page.
System
Joomla 4
The framework has been tested with the new Alpha 2 version of Joomla 4. Other changes may be necessary later on.

MVC Framework
Models, Views and Controllers have been updated
Enjoy your new Vik Rent Car!
Do you work also with WordPress?
Did you know that some of our Joomla!
®

extensions are also available as plugins for WordPress?

Please visit our dedicated marketplace VikWP.com for more details!

Visit vikwp.com