e4j's Blog
news about the Joomla!® world and the Vik extensions
Category: Updates
Published on 27 January 2020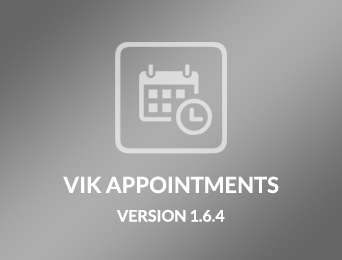 VikAppointments 1.6.4 Release
VikAppointments 1.6.4 is now available. This version contains some new features, several enhancements and a few bug fixes.
What's in 1.6.4?
Here is a list of what this new version brings.
New Features
It is now possible to manually sort the employees assigned to the services.
Added support for "fortnightly" and "bi-monthly" types of recurrence.
The subscriptions now support a custom ordering.
Improvements
The "Default Status" setting is now ignored when completing an appointment with the bank transfer gateway.
Added a few event triggers to extend the functionalities of VikAppointments.
Bug Fixes
The custom fields with multiple options are now properly displayed within the reservations list.
Fixed a layout issue within the reports page of the packages.
Fixed an issue that might occur while validating a payment through the offline credit card gateway.
Fixed an availability issue that might occur when using contiguous working shifts.
Enjoy your new VikAppointments!
Do you work also with WordPress?
Did you know that some of our Joomla!
®

extensions are also available as plugins for WordPress?

Please visit our dedicated marketplace VikWP.com for more details!

Visit vikwp.com